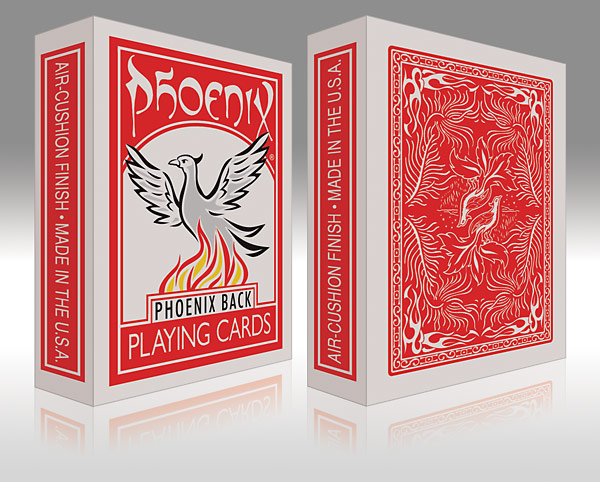 For all of you who have not heared any rumors about the upcoming Phoenix Deck or did not read about it in other threads so far...
At this particular moment USPCC is approving the designs and will soon print the new magician´s deck, called the Phoenix Deck. The printing sheets are set and they look great.
Why did I came up with the idea of the Phoenix Deck? Easy. Over the last few years I dealt with uncountable gaff orders and printed several decks in all variations, in old style like th Gypsy Deck or the Medieval Tarot, but also in very modern style like the Jill Deck.
For years I planned to release a thin deck (like the blank Phil Deck) that would have the same look as your standard deck of cards. But this task was impossible as your favourite deck design (Bicycyle) is owned by USPCC. There are so many great card printing companies out there who can do great stuff for us, but as long as a design is owned by a single printing company, every idea of mixtures will come to an end. The solution? Please read further.
My idea was to establish a new brand and design especially made for us magicians. I am NOT talking about the 531st deck of fancy looking cards that hits the magic community on a monthly basis and that ends up on a collector´s shelf. I am talking about a working horse for all of us magicians around the globe. A deck that should look nice and modern, but not at all fancy and suspicious. A deck that has secret weapons built in that can be used but don´t have to be used. Well hidden and secret that no layman would ever find them. And if he would find them would not think about it as a weapon!
Bringing it to an easy statement:
The Bicycle Deck is for Poker players, but magicians can use it.
The Phoenix Deck is for us magicians, but Poker players can use it without ANY problems.
What is similar to a Bicycle Deck, what are the differences?
Similarities:
- the card stock will be the same, also the air-cushion finish
- the card case will look familiar and will use the back design on the back of the card case as it WAS USED TO BE. USPCC changed that recently and a lot of magicians are concerned.
- the faces will be the same like your favourite Bicycle deck (with a few exceptions)
Differences:
- the decks come sorted in the bricks and not mixed. If you only want red decks, buy only red decks! No problems to get rid of the blue decks then.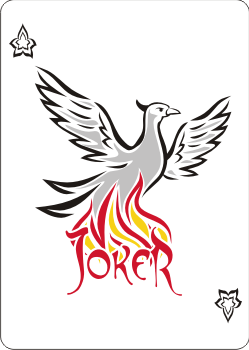 - The Joker has a new design, as the deck is called Phoenix Deck, it shows a Phoenix rising from Fire. Having a mythology bird as a Joker perhaps give you new ideas for torn and restore effects, burning cards etc. (BTW, there is only one Joker in the deck, do you really need two? Buy two decks...)
- The Ace of Spades is different, but somehow still feels familiar...
- all the other regular aces are still included but only as a backup if you do have problems with the new ones. There are new aces that have a larger middle pip, they look great in closeup but also perfect on stage! No more difficult-to-see ace routines!!!
- The back design is changed to the Phoenix theme. Can you spot the hidden oneway information on the back?...
- The deck setup will be different to the one you are used to. Joker, Ace-King of Clubs, Ace-King of Diamonds, King-Ace of Hearts, King-Ace of Clubs, the old three aces of Diamonds, Hearts and Clubs. For all afficionados of the Tamariz stack... do I have to say more?
Perhaps you all heared of the bad news how USPCC has changed the politics about our gaffed cards. No more changed back designs, Ace of Spades or Joker on any Bicycle Deck. As this is my design: Welcome magic fellows, contact me with your ideas of gaffs, I CAN AND WILL PRINT EVERYTHING FOR YOU!
So just from the beginning I will realize a lot of standard gaffed decks.
There will be a marked deck available that will put a smile on your face as soon as you find the marking! PROMISED! Everybody did that when I showed them the prototypes. It is so well placed, easy to read, well hidden. As if you would have had one wish come true.
Together with Martin Lewis I will also release the S.U.M. deck (meaning Setup Marked Deck). This is even an improvement of a regular marked deck and will find its connaisseurs.
All standard gaffs like double backers and blank cards will also be available, Invisible Deck, Brainwave Deck, Stripper Deck, Force Decks etc.
The pricing is also interesting I guess:
I will do everything to get the price down to 3 US$ / 3 Euro per deck. It will get really interesting if you buy more than 60 decks. Because then you will get your own business card printed on blank faced Phoenix Decks FREE OF CHARGE! 60 Phoenix Decks will give you 60 free Business cards printed, 100 Decks 100 free cards with your logo on. Just imagine doing an Ambitious card trick and ending with your own business card. Leave the deck with the spectator as a souvenir and your next gig is nearly booked.