Kainoa Harbottle - February/March 2016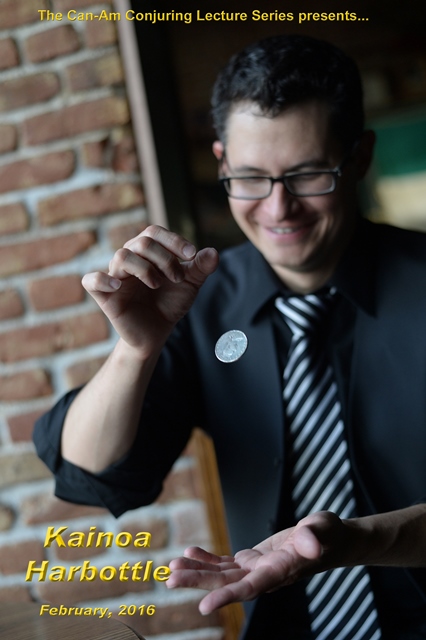 ...
February 27th, 2016- Seattle, WA
2:00 PM
Shawn O'Donnell's (lower level)
122 128th St. SE
Everett, WA
February 28th, 2016 - Victoria, BC
7:00 PM
Harbor Towers Hotel
345 Quebec St.
Victoria, BC
February 29th, 2016 - Calgary, Alberta
7:00 PM
Communitywise Resource Centre
223 12th Ave SW
March 1st, 2016 - Winnipeg, Manitoba
7:00 PM
Manitoba Deaf Centre / Forest Nickerson Theatre
285 Pembina Hwy, Winnipeg, MB R3L 2E1
March 3rd, 2016 – Edmonton, AB
7:00 PM
Best Western Cedar Park Inn
5116 Gateway Boulevard NW
Edmonton, AB
March 4th, 2016 - Mission, BC
7:00 PM
7969 Tuckwell Terrace
Mission, BC
March 5th, 2016 – Vancouver, WA (Portland area)
3:30 PM
Dave's Killer Magic Shop
1707 Main Street
Vancouver, WA
March 6th, 2016 – Eugene, OR
3:30 PM
Lane County Juvenile Justice Center
2727 Martin Luther King, Jr. Blvd
...
Kainoa was born and raised in Honolulu, HI and began performing magic after spending a good deal of his youth doing local drama. By high school, he was performing semi-professionally, including weekly tablehopping at Curtis Kam's showroom in Waikiki, as well as in restaurants and private shows for both the business sector and the tourist industry.
After attending college in Los Angeles where he was a Junior Member at the Magic Castle, Kainoa headed east, earning a Ph.D. in English from the University of Delaware. His research is on Victorian performance magic and the connections between the works of Professor Hoffmann and John Nevil Maskelyne with the popular literature and periodicals of the period.
As an educator, Kainoa spent a decade teaching English literature, and Theatre History and Production at the university level. There he developed a course where students analyzed magic from fantasy fiction and popular culture--and even the performances of guest magicians, like Larry Haas, Kostya Kimlat, Marc DeSouza, and Garrett Thomas. Recently, he has taught at Punahou School in Honolulu, HI, helping to develop a magic curriculum for grades 6-8 where performing is used to develop poise and public speaking skills.
For the magic community, Kainoa has written extensively on coin manipulation as well as how to apply practical theatrical techniques to increase the quality of the audience's experience.
Please join us for the beginning of the 2016 season as The Can-Am Conjuring Lecture Series proudly welcomes... Kainoa Harbottle!