AES GOETIA:
The Effect:
Thirteen Demons (all images are taken from Medieval & Renaissance sources) etched on a tripartite brass disk (broken into three jagged pieces to honour the Trinity). This disk (6" round & HEAVY) is hidden behind a cherry wood decoration from an old church's rood screen (on the face of this wooden plaque is another brass medallion 2" round depicting a Medieval image of Christ breaking down the gates of Hell).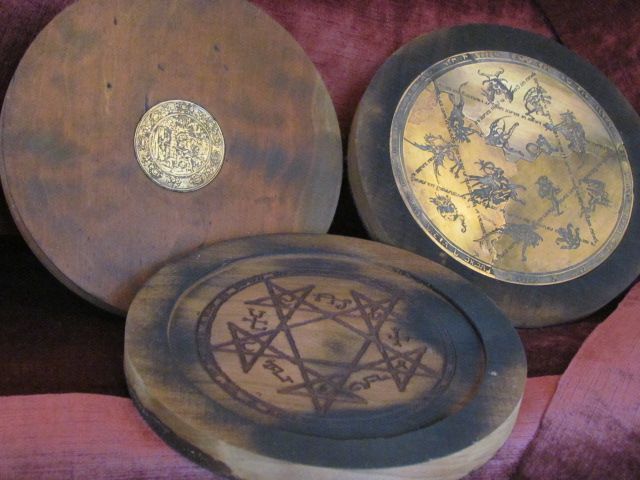 The three phases: Front (with medallion), Back (with tripartite disc), Back (Demon Trap behind Tripartite disc). The wooden 'plates' pictured are each 7.25 inches (18.4cm) round.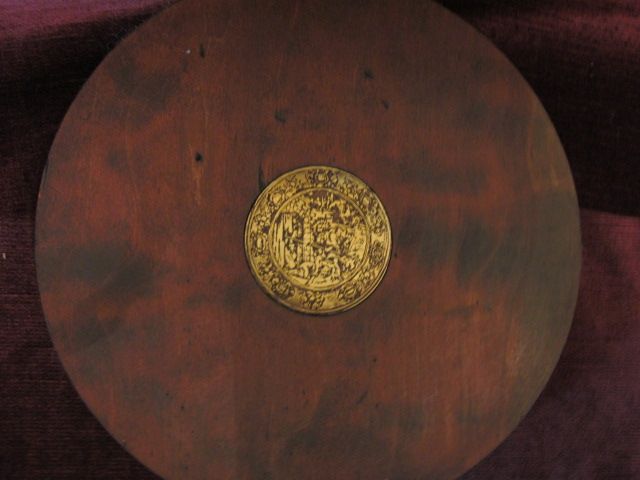 The front of the AES GOETIA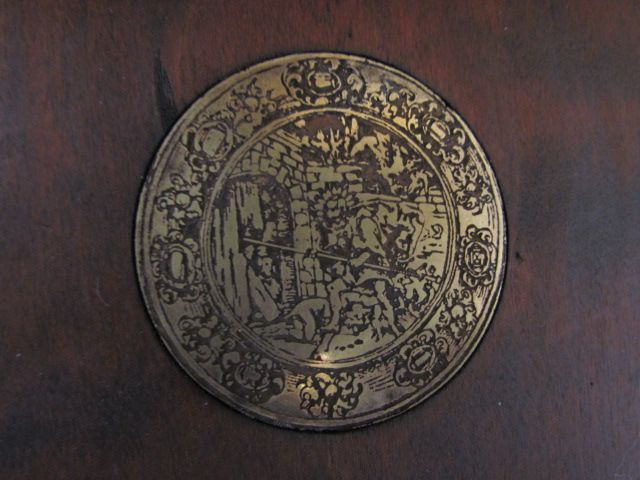 Detail of the front medallion: Christ breaking down the gates of Hell.
You or your spec count the demons. Clearly there are 13.
The 13 demons on the Tripartite disc.
You tell about how Solomon once trapped 72 demons in brass and of the misguided Christian monk who later tried to repeat this miracle. He reached 13 before something went terribly wrong. You or your spec carefully tip out the 6" tripartite brass disk from its cherry wood plate to display that there is a Demon Trap burned into the wood behind it.
The Demon Trap: hand-branded into the cherry wood with a branding iron.
The brass disk is turned face up again, the demons counted again. Still 13. Whew! no manifestation. But wait. Before your very eyes the etched pieces seem to change. Just a flicker, perhaps, or a trick of the eye or the dicky lighting. You or the spec counts again and, no, there are now ONLY 12 demons deeply etched onto the brass plates. Count as often as you like. There are now only 12. One has escaped!
Everything happens in the plainest of views. No 'moves', no sleights, nothing tricky. The spec can actually do absolutely all of the handling. No angle issues, either. Everything is just what it appears to be except ONE DEMON VANISHES quite impossibly from the face of an etched brass plate.
Now I'm going to tell you how it works because I honestly believe this is one effect people will be even more likely to want when they know how it works (unlike so many tricks that we buy just to learn the secret). Indeed, this 'secret' is so good it sells itself.
If you know the old Vanishing Leprechaun puzzle (viz. http://blocs.xtec.cat/eliesmates/?tag=paradoxa), you know how deceptive this effect is--how utterly unfathomable. ('Seeing' the etching move is, of course, a bit of audience control and psychological suggestion after you miscount the 12 demons as 13.) Unlike the leprechaun puzzle, however, (which works when you openly switch around the three cards) AES GOETIA includes a extraordinarily subtle & convincing handling that even the spec can do--one so utterly open and logical that it completely covers the switching of pieces. It will even fool you when it happens.
[You have NO IDEA how difficult it was to make this linear leprechaun effect work in a circle, but work it certainly does!]
Now, onto performance: once the demon escapes, the room can suddenly erupt in demonic activity (using other items such as spirit bells, ghost touch, Ouija boards, &c.)--or you can 'enslave' the released demon to do your bidding in a seance. Or the AES GOETIA may be presented as an artifact collected by M.R. James himself during his church explorations and made part of your GH*ST presentation (with thanks to Bruce Ballon for this idea!)
Not only is this a strong opening to your act or routine. It also provides you with a sure-fire closing. A quick exorcism, and the etched figures can be counted again. The 13th demon has again been trapped and, once more, all is well.
Or this can be a super one-off: just place it on display in your office and wait for someone to admire it. Tell your story and demonstrate the miracle.
It can also work in 'reverse' if you wish. You may start with 12 demons and 'trap' a 13th in the course of your routine.
The strongest part of all is that the piece is COMPLETELY self working. Nothing to hide. No magnets, threads, springs, batteries, r/c, &c.--just the old-school brass and cherry wood. It can last for decades if not centuries.
What they see is what they get. Everything is completely examinable. I sent a working paper model to Dan months ago with written instructions on turning it out and recounting the demons, and he was baffled by how 13 demons became 12 (even after examining it for a while)--and I, the 'performer', was 5,000 miles away at the time. So it really can happen in your spectator's hands. Very convincing effect.
The wood is solid cherry, age-accelerated (not stained or coloured at all; I'm using potassium dichromate to oxidize the wood in imitation of actual UV darkening that has occurred over centuries) and then hand-rubbed with tung oil to imitate a piece of an old rood screen centuries old. Dark, black-red cherry wood, deeply stained with age wrapped around etched, aged brass--spectacular.
Oh, and the area around the actual Demon Trap (which is burned in with a branding iron) is actually fire-burnt to look like the brass has heated it over the years (with hell's flames) as the demons have attempted (unsuccessfully) to escape.
Your AES GOETIA will arrive wrapped in antique velvet (from the church, perhaps?) tied with jute string and tucked up in its own burlap bag; also included will be two religious medals (for protection and exorcism), an etched brass Celtic cross that is in fact your numbered 'certificate of authenticity' (rather than the usual paper one), and a performance manual, of course--complete with old photographs of the church and rood screen depicting this decoration (that may be copied and shown during performance).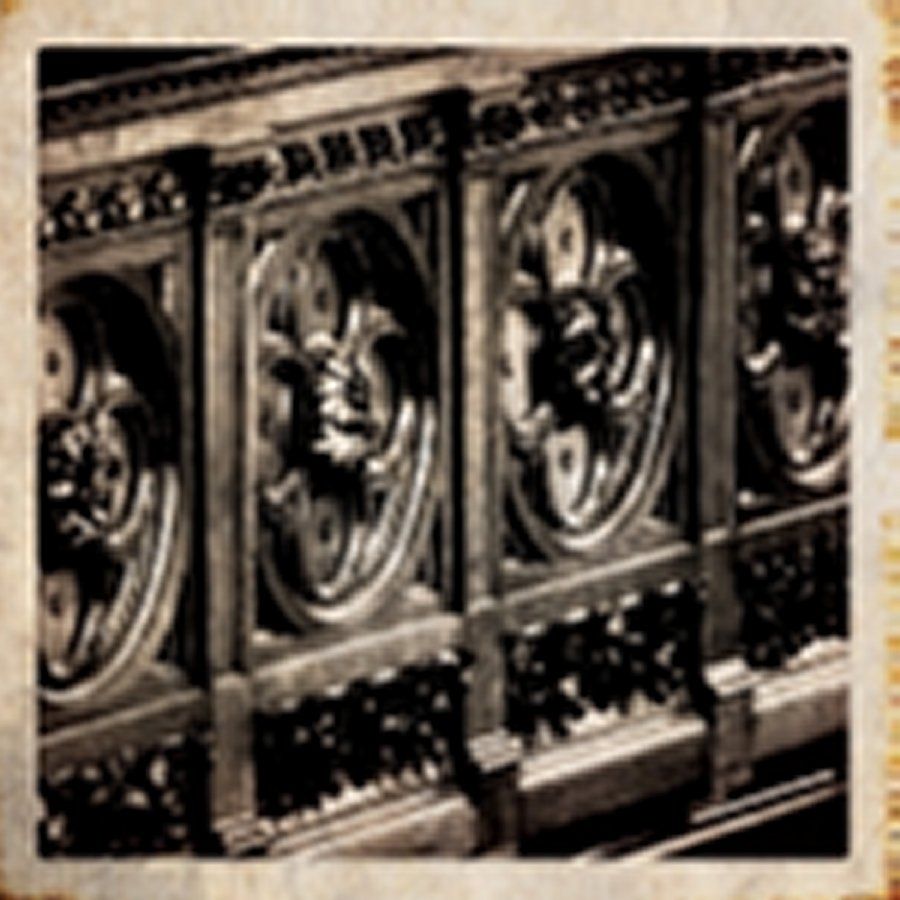 The old church rood screen.
AES GOETIA is complete. Shipping will begin this week (as soon as Dan can get a link up on Lebanon Circle Magic's site). You may check by clicking on the "Prof BC Presents" banner at the top of Spooky.
Only 48 have been made. I will make no more, nor will I license or allow others to be made. There will be only 48 in the world, ever.
My best to you,
Professor BC