Anthony Black
Special user
Tamworth - Albion
851 Posts
Hi all,
Just thought I would let you know this eBook was released yesterday.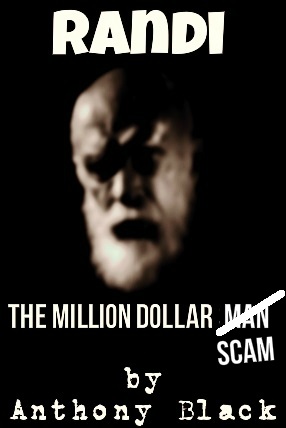 A couple of reviews:
"I like the whole premise of this ebook from Anthony. There are strong disincentives to reveal the observation of psychic phenomena. If someone were to be psychic, then it is in Randi's interest not to disclose this as the whole raison d'etre of his organisation would fold at that instant, let alone being 1 million dollars down on the day. It is in the CIA's interest not to disclose anyone with psychic powers since this is a useful asset for the US intelligence community. Even if the NSA found evidence among the 200 million texts a day being collected, it is not in its interest either, since such a person would be vital for the war on terror.

So, with this premise in mind (I added the NSA bit), Anthony gives us a nice three phase routine that probes this whole idea. With such a strong premise, I can see this being combined with lots of other stuff that we do. I think it would be cool to work with Chuck Hickok's idea of increasing implausibility here, such that the initial experiments are those that could be achieved through sheer chance, and then conditions are set such the probability of success through sheer chance is greatly reduced, thereby leaving only psychic power as the only explanation. The effects are nice and the routine is great. Much to work with here as the whole spy, intelligence, covert world theme is still relatively under explored in our community."
- Dr Todd Landman
"I don't often write reviews but occasionally I am sent a book or routine which peeks my interest as offering something different & interesting, exciting or maybe a little bit quirky. This ebook has earned a review.

Anthony states in his promotional blurb that this is something for the more accomplished mentalist. I believe the routine is within the bounds of most who have passed through the first stages of being a mentalist and moved beyond merely presenting a puzzle and a Derren Brown twitch. The ability to act and actually perform this three stage routine will make it a potential star set-piece.

What you will be buying is a three stage routine built around a wonderful notion; what if someone has already won the JREF prize? That amused me even before reading further. Anthony Black goes further with this line of thinking and you really do have to read this piece to see where he goes with it beyond some deceptive psychic testing. The only clue I'll give is that if you would like to do something along The Cold War or Spying themes this is for you; although it's certainly not constrained to just those. An experienced mentalist will have their minds racing with variations based upon Anthony's premise from the moment they begin to read this piece as it sets you up with a wonderful opportunity to present some of your favourite items as well as the suggestions laid out for you.

Anthony Black does not go into detail about the methodology; he doesn't need to. The effects are all very simple allowing you to focus upon your audience, acting and aura. This is where those just entering the art of mentalism rather than magic may falter. There is scope to weave other items in or out and my thoughts wandered into ideas of having multiple audience members join me rather than the suggested single guest I would finish with. As I say, the premise and backstory provided will leave you with a sly grin if not wicked thoughts.

You are buying a good idea, three nice effects and the framework to create something which could be rather special. It certainly breaks away from many of the usual presentational angles plus it will give those in the know a silent chuckle as in presenting these tests you will not only be proving that Randi is wrong but also correct.

I can see my using this in my usual parlour or stage settings. It feasibly could be used in walkabout with a few minor alterations. There are no angle problems. Think I'm supposed to say something like folds flat and plays big; it does and will. In the direct form presented it would easily fit in your pocket.

For £11 it is worth a look as I am sure the concept will appeal to many as well as to audience members who are provided with a very convincing (apart from the burning man) story to follow as each stage progresses. Is Randi all that he appears? The routine is not a scam! Either standalone or the basis of a full show you should be able to get a lot of mileage out of this. I probably would not use Anthony's ending as I'd prefer something far more subtle but Anthony makes it very clear that's what he wants you to do."
- Dr Iain Jay – Cognitive Consultant & Mentalist
Further details here:
http://www.thewrongsideofmidnight.com/randi.php
See you on the other side,
- Anthony