Tyler Wilson & Chris Mayhew
Pacific Northwest Lecture Tour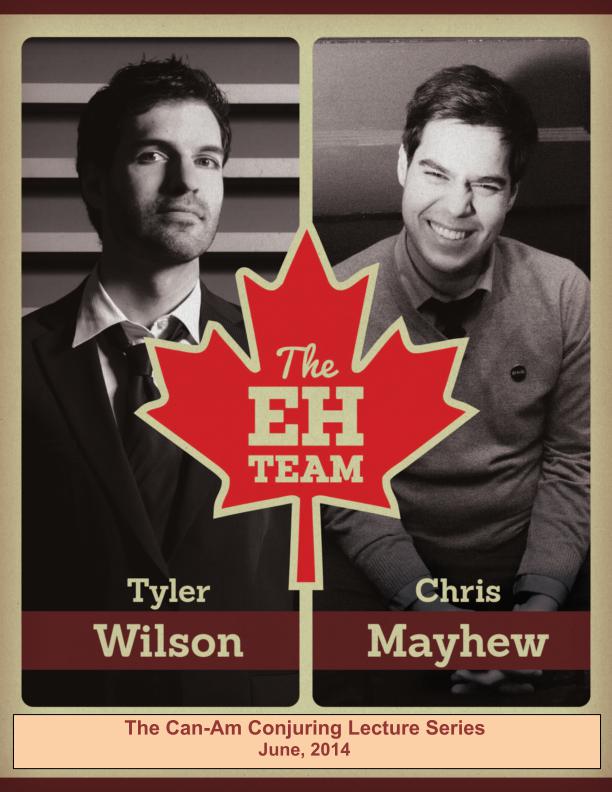 You're awesome. You deserve awesome.
Lectures aren't dealer demos. Lectures are a place to get passionate about magic - teaching, sharing, exploring and pushing our craft forward. In June, 2014, The Can-Am Conjuring Lecture Series welcomes two of Canada's most creative magicians for a special double lecture to do just that. Tyler Wilson and Chris Mayhew are on the forefront of today's thinking. They hit hard, have fun, and most importantly, they care. This is why some of the most respected names in magic have publicly given praise, such as Stephen Minch, Max Maven, Eric Mead, and Jason England, just to name a few.
Tyler Wilson
has created a name for himself as a modern day polymath, being equally known for his technical ability, unbounded creativity, hilarious approach, and studious love for magic's history. With two best-selling books under his belt –
Dominatricks
and
Reinventing the Real
- his lectures are high-octane fun, with ideas that will get under your skin.
Chris Mayhew
never stops. He is always tweaking, always working, always twerking. His creative output is both inspiring and exhausting. Every magic producer has knocked down Chris's door to work with him, including Theory 11, Ellusionist, Penguin, and Murphy's, among others. His lecture style is fresh and chaotic, constantly heading in exciting new directions.
You're awesome. You deserve
the EH Team
.
Winnipeg, Manitoba
- June 17th, 7:00 PM
Tyler Wilson
Calgary, Alberta
- June 18th, 7:30 PM
Tyler Wilson
Hillhurst Sunnyside Community Centre
1320 5 Ave NW
Mission, BC
- June 19th, 7:00 PM
Tyler Wilson & Chris Mayhew
7969 Tuckwell Terrace
Victoria, BC
- June 20th, 7:00 PM
Tyler Wilson & Chris Mayhew
Harbour Towers Hotel & Suites
345 Quebec St
Seattle, WA
- June 21st, 2:00 PM
Tyler Wilson & Chris Mayhew
Shawn O'Donnell's (lower level)
122 128th St. SE
Everett, WA
NWRF Members: $25
Ring of Smoke $10
General Admission: $30
Eugene, OR
- June 22nd, 3:30 PM
Tyler Wilson & Chris Mayhew
Eugene Newman Center
1850 Emerald St.
Portland, OR
- June 23rd, 7:00 PM
Tyler Wilson & Chris Mayhew
The Portlander Inn
10350 N. Vancouver Way
Review of Tyler's book, Dominatricks (by Andi Gladwin)
Review of Tyler's book, Reinventing the......b Wiles)
Chris Mayhew's A Series of Unfortunate Effects
Chris Mayhew's CAANDY
The Can-Am Conjuring Lecture Series