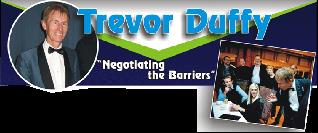 Seattle, WA: Saturday, July 12th at 2:00PM
Vancouver, WA: Sunday, July 13th at 3:00PM
Trevor Duffy is an award winning comedy magician and innovator of magic, residing in South Africa—a full-time Professional Entertainer for private and corporate events, as well as having worked at one of Johannesburg's top restaurants for the last 11 years.
Trevor has developed a unique blend of comedy and magic, as can be seen in his new lecture, "Negotiating the Barriers." His magic encompasses close-up and platform shows, tricks with coins, thin cards, banknotes and special innovations with clothing, and playing cards. In this lecture, Trevor delves into the psychology of "why I do what I do", exploring the "law of reciprocity." He also shares valuable ideas based on the fascinating, and sometimes tough, experiences he has had.
Perhaps best known for his DVD, "Connecting People with Magic," Trevor also produces a line of commercial magic that includes a number of best-selling items, such as The Phil Deck, Smokey Magic, and Uncanny, as well as his line of utility items for the working professional and aspiring amateur.
With Trevor Duffy, you are assured of a very professional, entertaining and informative afternoon, guaranteed to motivate any magician who wishes to make better of his or her career.
Seattle:
Shawn O'Donnell's (lower level)
122 128th St. SE
Everett, WA
NWRF Members: $25
Ring of Smoke $10
General Admission: $30
Vancouver:
Dave's Killer Magic Shop
1707 Main Street
Vancouver, WA
$15 advanced ticket or $20.00 at the door