For those interested, be ready to purchase authentic JNuggs on
Sept. 4th, 2014 @ 8:30pm (EDT)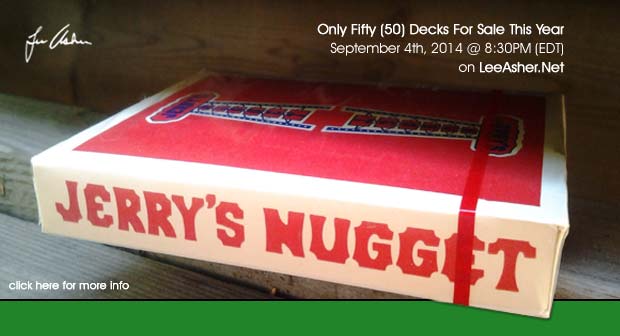 Only Fifty (50) Jerry's Nugget decks will be for sale on LeeAsher.Net. All decks sold this year are in
As Issued
condition with cello & unbroken stamps, as if they just left Jerry's Nugget Casino gift shop.
Don't wait, don't hesitate, don't even blink or you'll regret it. Click here to read
how much these vintage decks will cost
per deck.
If you miss your opportunity to purchase a deck of authentic Jerry's Nugget cards on the
4th of September 2014 @ 8:30PM (EDT)
, then you'll have to wait until next year for another chance.
Good luck this year
!
Asher
ps. Let me know if you have any questions.
.
.
.