The Can-Am Conjuring Lecture Series proudly presents:
Francis Menotti
September 16 - 22, 2014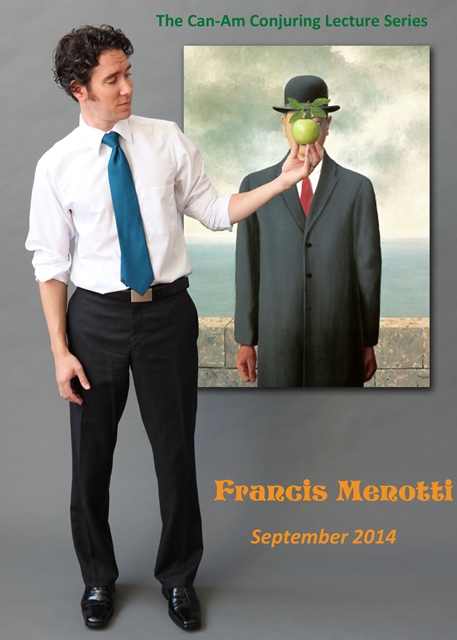 September 16th, 2014 - Victoria, BC
7:00 PM
Harbour Towers Hotel & Suites
345 Quebec St
September 17th, 2014 - Calgary, Alberta
7:30 PM
Hillhurst Sunnyside Community Centre
1320 5 Ave NW
September 18th, 2014 - Winnipeg, Manitoba
7:00 PM
September 19th, 2014 - Mission, BC
7:00 PM
7969 Tuckwell Terrace
September 20th, 2014 - Seattle, WA
2:00 PM
Shawn O'Donnell's (lower level)
122 128th St. SE
Everett, WA
September 21st, 2014 - Eugene, OR
3:30 PM
Lane County Juvenile Justice Center
2727 Martin Luther King, Jr. Blvd
September 22nd, 2014 - Vancouver, WA
7:00 PM
Dave's Killer Magic Shop
1707 Main Street
Francis Menotti will be bringing his highly-acclaimed "Shuffles and Scripts" Lecture to The Can-Am Conjuring Lecture Series in September, 2014.
Join one of today's most original magical performers as he shares tricks, thoughts, and tools for making your magic stronger and more memorable.
A lecture for beginners and pros alike, Francis teaches new sleights, personal touches on old ones, and secrets to increasing the impact of the magic you already do!
Francis' lecture features his variety of highly-acclaimed marketed effects along with new and fun coin, card, and mental magic. Improve your double-lift, learn Francis' signature coin routines/moves, and discover how to overcome the fear of bold misdirection.
Still wondering if you should attend? Here are a few more reasons to be there:
* Full time pro performer of 14 years
* Frequent performer at The Hollywood Magic Castle, Monday Night Magic, Boston's Mystery Lounge, Dickens Parlour Theatre, Crystal Cruises Magic Castle at Sea, Orlando's Wizardz Theatre, Indy Magic Monthly.
* Magic Producer for Dan White's most recent Travel Channel special, "White Magic."
* Magic Consultant for Jeremy Renner in the 2014 film, The Immigrant
* Marketplace product reviewer for MAGIC Magazine for past three years.
* Performer at past two US Presidential Inaugurations.
* Featured hit performer at the most recent Columbus Magi-Fest, along with MAGIC-Live, L.A.D.s, FFFF invitational, The Magic Circle, and PenguinLive lectures.
* He's just a nice guy, too.
Make plans to join us in September to learn from the man Teller called "The future of magic!"
Seattle Lecture:
Shawn O'Donnell's (lower level)
122 128th St. SE
Everett, WA
NWRF Members: $25
Ring of Smoke $10
General Admission: $30