Make your key ring WAY more useful than just starting a car.
Imagine a mindreading routine that allows 3 SPECTATORS to PROVIDE the borrowed items, HOLD the items from the start...
and with 100% FREE CHOICE... you are able to predict the outcome from the start!!
Paul Harris presents:
Fair Play
-- An astonishing new effect by Steve Haynes and Uday Jadugar.
Click here for more information
With this unbelievable and completely examinable Fair Play gimmick, it is possible.


SPECTATOR makes ALL the choices

NO FORCES

SPECTATOR CAN CHANGE THEIR MIND AS MANY TIMES AS THEY WANTS

ALL CHOICES ARE 100% FREE CHOICES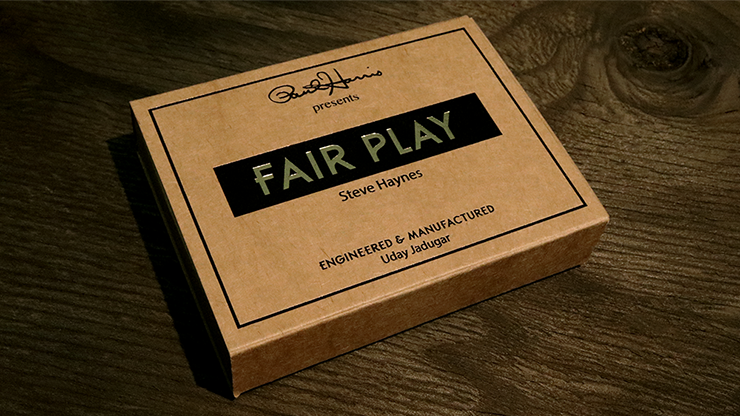 AND EVEN MORE FAIR...


SPECTATOR HOLDS THE PREDICTION FROM THE START

NO SWITCHES OR MOVES

NOTHING TO ADD OR TAKE AWAY

NO ELECTRONICS

RESETS IN SECONDS

SPECTATOR CAN COMPLETELY EXAMINE THE PREDICTION

ALL THREE OBJECTS ARE BORROWED

The Fair Play Gimmick is Completely Self-Contained and Self-Working.
Just snap it onto your key chain and you're always ready to play!
INTERNATIONAL FAIR PLAY!
COMING SOON...
JAPANESE
(Gimmick includes Japanese characters)
UK EDITION
(Gimmick uses the word "note" instead of "bill")
Read more about Fair Play
here
.
Purchase at your favorite Murphy's Magic dealer including these fine retailers:
Hocus Pocus
Saturn Magic
Free Post Magic
Dude That's Cool Magic
Merchant of Magic
World Magic Shop
Penguin Magic
---