Jamy Ian Swiss
- The Lecture -
Exclusive Seattle Appearance!
Saturday, January 23rd, 2016
2:00 PM
Shawn O'Donnell's (lower level)
122 128th St. SE
Everett, WA
NW Ring of Fire Members: $25
General Admission: $30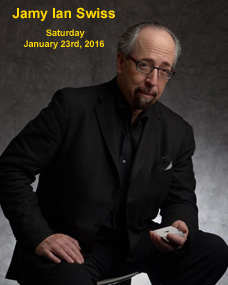 An acclaimed master of the challenging art of sleight of hand, Jamy Ian Swiss has performed magic throughout the United States for presenters ranging from Fortune 500 companies to the Smithsonian Institution. He has lectured to magicians in 13 countries and made numerous television appearances in the United States, Europe and Japan, including U.S. appearances on CBS 48 Hours, PBS Nova and the PBS documentary The Art of Magic, and Comedy Central.
A gifted sleight-of-hand artist who possesses, as the Washington Post once wrote, "a finely tuned sense of the absurd," Swiss was born in Brooklyn, New York and today makes his home in nearby Manhattan, having appeared along the way in performances from Hollywood's Magic Castle to Caesar's Palace on the Las Vegas Strip to the Ginza District of downtown Tokyo. His wildly eclectic resume includes stints as a marketing consultant, telecommunications firm owner, and wild animal handler. His greatest passion, though, is sleight-of-hand magic, and there are few practitioners who can match his skill and enthusiasm. With a bravado that reflects his early days performing in biker bars, Swiss blends contemporary comedy with bravura technical mastery to create a truly unique show that appeals to almost any audience. He has been called magician, comedian, artist; Swiss himself prefers the phrase "Honest Liar."
"One of my great satisfactions in being a magician is that it is the most honest living I have ever made," says Swiss. "As Karl Germain, a world-famous conjurer at the turn of the century, said, "The magician is the most honest of all professionals. He first promises to deceive you, and then he does."
Above all else, Swiss is an entertainer, as this glowing review from the kings of irreverent magic, Penn & Teller, makes quite clear: "Jamy Ian Swiss makes one understand what a terrifying art form pure sleight of hand can be. He is James Bond with a deck of cards for a pistol."
Swiss was a featured performer on the 1998 PBS documentary, The Art of Magic, and he is co-author of the companion book of the same title. He served as a comedy writer and chief magic consultant for Penn & Teller's Sin City Spectacular, a weekly television variety show on the FX network, for which he also co-produced the Penn & Teller segments. He created, produced and performed in the documentary special, "Cracking the Con Games," for the Discovery Channel. Currently engaged in developing, producing and writing additional projects for television, he is slated as Head Writer and Associate Producer of the new high-tech series, "The Virtual Magician" starring Marco Tempest.
As a partner in Magical Nights Inc, he is the co-producer of Monday Night Magic, New York City's longest running Off-Broadway magic show, named New York's Best Magic Venue by TimeOut NY, and Best Kept Secret by New York Press.
A busy and highly regarded writer, Swiss contributes a monthly book review column to Genii, the Conjuror's Magazine; is the author of 11 books and monographs of magic for magicians (including a volume published in Japanese); a contributor and advisor to the book, Magic for Dummies; and recently co-authored a chapter entitled "Explaining Magic" in the book, Visual Explanations, by the renowned information design authority, Edward Tufte. He was a creative consultant on Penn & Teller's book, How To Play With Your Food, and has been magic consultant to Rolling Stone magazine and on feature films, including The Fantasticks.
A founder of the National Capital Area Skeptics and contributor to Skeptic magazine, Swiss lectures to scientific, academic and university audiences about deception and the paranormal on "The Illusion of Psychic Powers." Why, you might wonder, is a professional deceiver concerned about the misuses of deception? "I want to highlight the line between illusion and reality," Swiss explains. "The fantasy world I create as a magician is a nice place to visit, but I wouldn't want to live there."
---
"A dazzling sleight-of-hand man"
The New York Times
"Swiss is widely thought to have one of the most masterly sleight-of-hand techniques in the world today .… like seeing Yo-Yo Ma practicing scales at Carnegie Hall"
Adam Gopnik,
The New Yorker
"Don't miss astonishing magician Jamy Ian Swiss!"
Vanity Fair
"The Kid Creole of Card Tricks … Swiss's humor is both visible and risible. He's suave, he's smooth … a superlative magician!"
The Washington Post Weekend
"His card and coin magic were seamless … dazzling!"
TimeOut NY
"The wonderful host of [Monday Night Magic, was] Jamy Ian Swiss … to me, this self-described 'honest liar' was worth the ticket price alone!"
Backstage