Christian Engblom Lecture Tour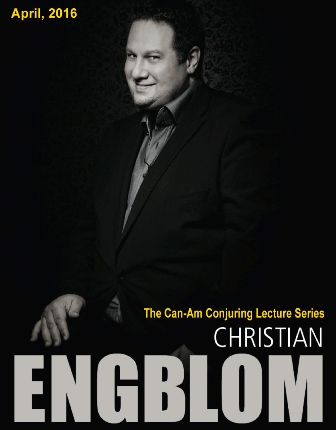 Christian Engblom is a magician who became known to cardicians around the world for the creation of a unique move, the anti-faro, an extraordinary move that literally unshuffles the deck.
The award winning Engblom (one of the three "Fat Brothers," alongside Dani DaOrtiz and Miguel Angel Gea) has had an interesting and varied career in magic, having performed throughout Europe and the United States (and now Canada).
He specializes in close-up magic as well as card magic, and spends a good deal of his time performing at corporate events, private functions, on cruise ships, on TV, and at festivals and convention all around the world.
As a competitor, Christian has won a variety of awards for his close-up magic, including the coveted Close-up Finnish Championships in 2003.
Since 1999, Christian has participated in Las Jornadas de Cartomagia de El Escorial, in Spain (only for invited participants).
Since 2001 he has lectured for magicians all over the world, and in 2008, he joined as visiting lecturer for the Gran Escuela de Magia Ana Tamariz magic school in Madrid.
He has performed multiple engagements at the Magic Castle in Hollywood, and most recently participated in the Genii Convention in Orlando, Florida where both his performance and lecture were met with standing ovations.
It is with great pride that we have been able to bring his lecture to the Pacific Northwest on the 2016 season of The Can-Am Conjuring Lecture Series.
...
April 9th, 2016 - Seattle, WA
2:00 PM
Shawn O'Donnell's (lower level)
122 128th St. SE
Everett, WA
April 10th, 2016 - Victoria, BC
7:00 PM
Harbor Towers Hotel
345 Quebec St.
Victoria, BC
April 11th, 2016 - Calgary, Alberta
7:00 PM
Communitywise Resource Centre
223 12th Ave SW
April 12, 2016 - Winnipeg, Manitoba
7:00 PM
Manitoba Deaf Centre / Forest Nickerson Theatre
285 Pembina Hwy, Winnipeg, MB R3L 2E1
April 14th, 2016 - Edmonton, AB
7:00 PM
Best Western Cedar Park Inn
5116 Gateway Boulevard NW
Edmonton, AB
April 15th, 2016 - Mission, BC
7:00 PM
7969 Tuckwell Terrace
Mission, BC
April 16th, 2016 - Vancouver, WA (Portland area)
3:30 PM
Dave's Killer Magic Shop
1707 Main Street
Vancouver, WA
April 17th, 2016 – Eugene, OR
3:30 PM
Lane County Juvenile Justice Center
2727 Martin Luther King, Jr. Blvd