The Can-Am Conjuring Lecture Series proudly presents...
Diamond Jim Tyler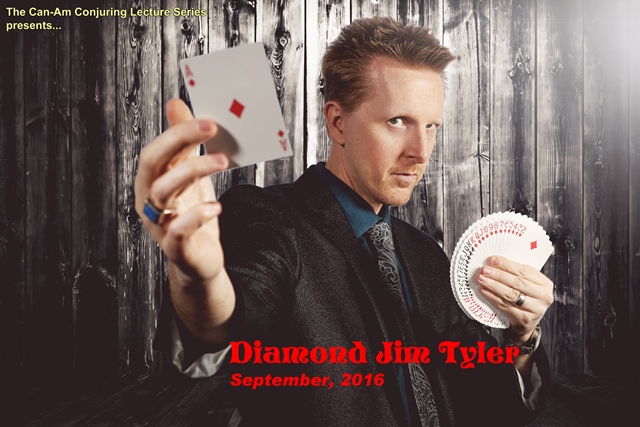 ...
Diamond Jim Tyler's close-up magic has been awarded by the Texas Association of Magicians and the International Brotherhood of Magicians. His act has also been featured at the Improv, The Magic Circle in London, and the prestigious Magic Castle in Hollywood, California on numerous occasions.
Diamond Jim's book "Pockets Full of Miracles: Secrets from the Repertoire of a Professional Close-Up Magician" quickly became a best-seller, and was out of print one year later. Dover Books released a revised and unabridged soft-cover version of this now classic book in June of 2011, with a new cover and title ("Close-Up Magic Secrets") . His recent "Bamboozlers" series of mini books, filled with quick tricks, bar bets and "gotchas," is receiving rave reviews from his peers, and the magic community as a whole.
DJT has performed in 45 of the 50 states, and in 27 other countries. As a corporate entertainer he has performed for an enormous list a "household name" corporations, including ABC Television, Annheiser-Busch, AT&T, CBS Television, IBM, Frito Lay, Fox Broadcasting, Harley Davidson, Exxon Mobil, Office Depot, Pepsi, Samsung, Nokia, and Microsoft.
He has been featured in every major magic magazine (and a few of the lesser known ones, as well), and his prolific library of published works and DVDs is marketed all over the world.
Please join us as The Can-Am Conjuring Lecture Series welcomes Diamond Jim Tyler.
...
September 17th, 2016- Seattle, WA
2:00 PM
Shawn O'Donnell's (lower level)
122 128th St. SE
Everett, WA
September 18th, 2016 - Victoria, BC
7:00 PM
Attwood Magic Studios
2634 Alderglen Pl.
Victoria, BC V9C 3P5
September 19th, 2016 - Calgary, Alberta
7:00 PM
Communitywise Resource Centre
223 12th Ave SW
September 20th, 2016 - Winnipeg, Manitoba
7:00 PM
Manitoba Deaf Centre / Forest Nickerson Theatre
285 Pembina Hwy, Winnipeg, MB R3L 2E1
September 22nd, 2016 - Edmonton, AB
7:00 PM
Magic Emporium
8840 60 Avenue NW
Edmonton, AB
September 23rd, 2016 - Mission, BC
7:00 PM
7969 Tuckwell Terrace
Mission, BC
September 24th, 2016 - Vancouver, WA (Portland area)
4:00 PM
Dave's Killer Magic Shop
1707 Main Street
Vancouver, WA
September 25th, 2016 – Eugene, OR
3:30 PM
Lane County Juvenile Justice Center
2727 Martin Luther King, Jr. Blvd