Gregory Wilson joins The Can-Am Conjuring Lecture Series!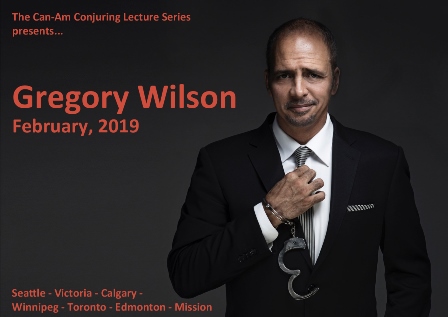 "Things I carry and use" - The Tour
From close-up to stand-up, there's something for everyone.
Just like the title reveals, Greg's lecture uses things that fit in his pockets and are found around him, ever-ready for spur-of-the-moment astonishments.
Continuing on his impromptu work from "Off the Cuff" and "On the Spot", Greg teaches how to convert everyday objects into devastating weapons of deception. The emphasis here is on ENTERTAINMENT.
Just because it's called a lecture doesn't mean it has to be dry and academic. You will experience a rip-roaring, laugh-out-loud, audience-involving show!
...
February 16, 2019 - Seattle, WA
2:00 PM
Shawn O'Donnell's
122 128th St. SE
Everett, WA
...
February 17, 2019 – Victoria, BC
2:30 PM
Intrepid Theatre
1609 Blanshard St.
Victoria, BC V8W 2J5
...
February 18, 2019 - Calgary, Alberta
7:00 PM
Communitywise Resource Centre
223 12th Ave SW
Calgary, AB T2R 0G9
...
February 19, 2019 - Winnipeg, Manitoba
7:00 PM
St. James Anglican Church
195 Collegiate St. Winnipeg MB, R3J 1T9
...
February 20, 2019 - Toronto, ON
7:00 PM
Browser's Den of Magic
3220 Dufferin St.
Toronto, Ont. M6A 2T3
...
February 21, 2019 – Edmonton, AB
7:00 PM
Rosie's Bar and Grill
6258 99 St. NW
Edmonton, AB
...
February 22, 2019 - Mission, BC
7:00 PM
Mission Chamber of Commerce
34033 Lougheed Hwy
Mission, BC V2V 5X8
...
February 26th, 2019 - Halifax, NS
7:00 PM
Location TBD
...
February 27th, 2019 - Ottawa, ON
7:00 PM
6490 Greely West Drive
Greely Ontario K4P 1E8